The ideal office lighting for your business
With our LED ceiling lights, they ensure that your employees get the ideal lighting in your offices, meeting and social rooms, as well as in hallways and corridors.
Modularity as a fundamental principle
Fast & easy assembly possible
Suitable for VDU workplaces
Highest quality standards
Products for office lighting
More products for full equipment
Full equipment
Hall
Outdoor
Crane
Sports
Cleanroom
High temperature
Full equipment
Hall
Outdoor
Crane
Sports
Cleanroom
High temperature
More productive employees through the right office lighting
Properly selected office lighting has a great impact on the productivity of your employees. With the right lighting design, you thus ensure more motivated and productive employees in your office. With our LED luminaires tempLED RaySquare V2 and tempLED RayDown you have exactly the right lighting partners for your office lighting for workstations, offices as well as meeting and social rooms. In addition, the LED luminaires are suitable for VDU workplaces as well as corridors and hallways.
The RaySquare V2 offers a wide light distribution (120 degrees symmetrical) in combination with a UGR < 19. The resulting glare reduction allows the luminaire to be used for PC workplaces as well. The modular luminaire is also optionally available with DALI dimming and offers numerous mounting options. In addition, the LED office luminaire has a shock-resistant PS cover lens in accordance with the IK04 standard. Furthermore, the RaySquare V2 is equipped with a sturdy luminaire housing and has an IP 20 protection rating. A color temperature of 4,000 Kelvin can improve the concentration and performance of employees.
Our tempLED RayDown is available in two power levels of 8 as well as 20 watts and the LED luminaire has a system efficiency of up to 120 lumens per watt. The luminaire's symmetrical beam angle is 100 degrees. Thanks to its sturdy and powder-coated aluminum fixture housing, the RayDown has an IP 54 certification, making it perfect to be used for lighting your sanitary facilities and office. In addition, the luminaire has a high-performance heat sink with chimney effect and thanks to the impact-resistant light field cover made of frosted PMMA according to IK05, the LED luminaire provides glare-free light in your office. For quick and easy installation, the RayDown is also equipped with a SnapIn system with spring clips.
Sustainability thanks to modular LED office lighting
tempLED has made it its business to produce sustainable office lighting for companies. Thanks to our durable and modular LED lights, we achieve exactly this ambitious goal. Moreover, not only our office lights are modular, but our entire range of LED lights. Due to the modular design of our LED luminaires, you have the possibility to exchange individual components or perform upgrades on your office lighting at any time. This way, you can maintain your lights at a reasonable price and do not have to replace or dispose of the entire luminaire.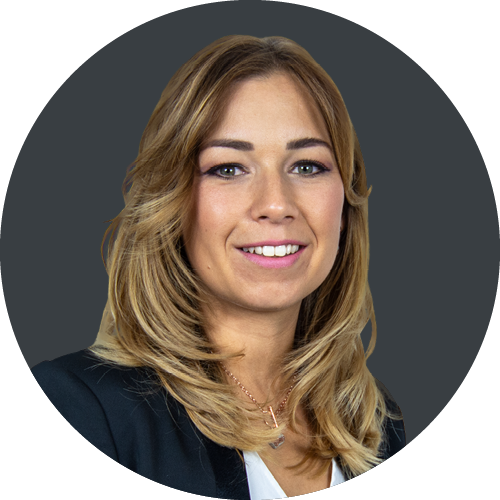 Hello, I am
Isabella
your personal
consultant
… and I look forward to your contact.
If we could inspire you for our LED industrial lighting and services, we are looking forward to get in touch with you personally. Together we will find the optimal lighting solution for you – let's get started right away!