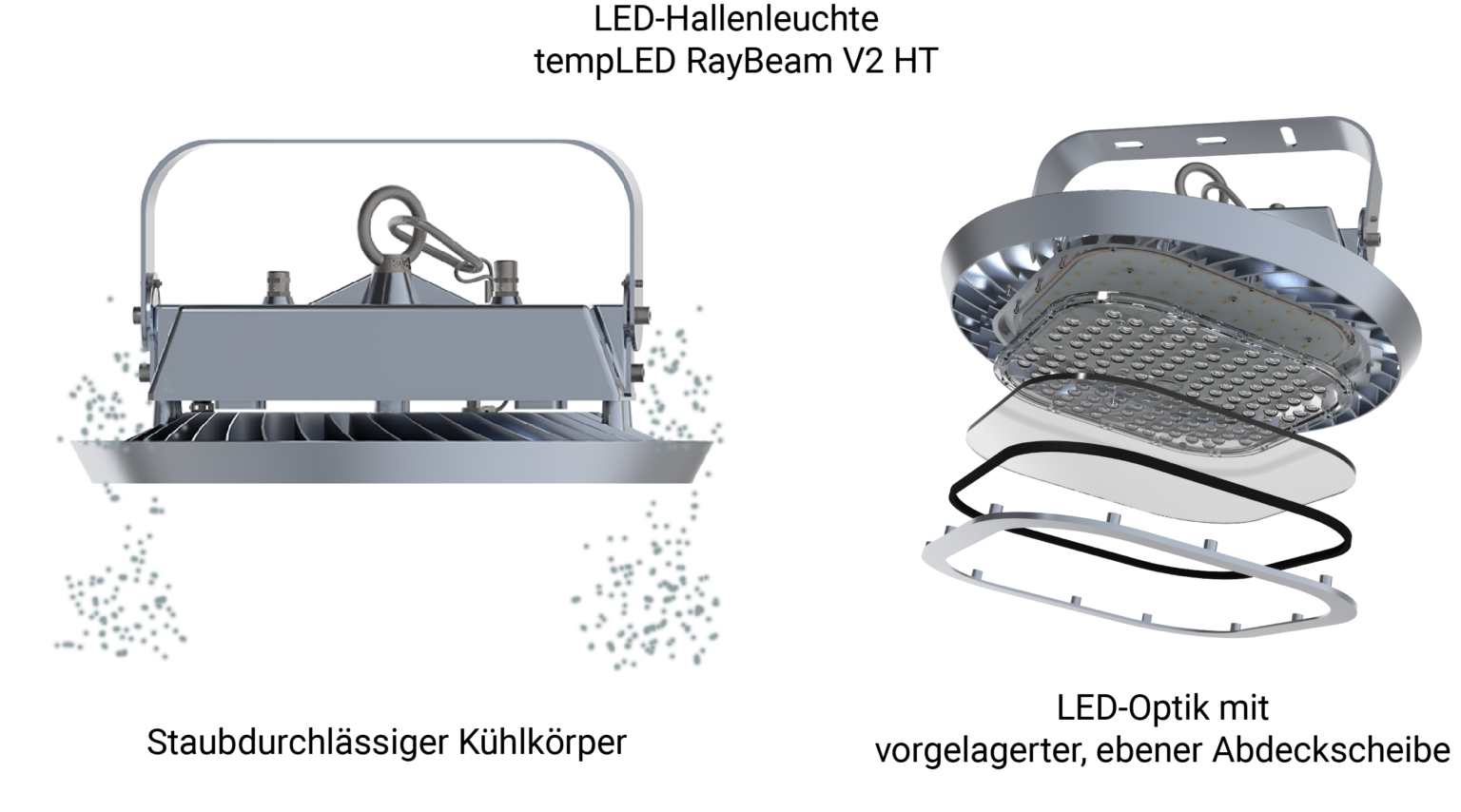 May 2021. Who doesn't know it? Industrial locations can sometimes be unpleasant for LED luminaires: dusty production processes and swirling up material particles are everyday occurrences and tend to stick to the inventory. LED luminaires with "rough" optics and large-format, closed housings are particularly affected. There, dust and dirt deposits can significantly reduce the luminosity in the long run.
Smart design features against dirt and dust
The RayBeam V2 LED hall light offers two solutions to the problem at once:
The luminaire housing, including heat sink, is designed to allow dust to simply fall through instead of becoming trapped. In addition, the LED luminaire offers a cover lens installed as standard in front of the RayBeam V2 optics. This consists of a 5mm thick ESG safety glass and convinces primarily with its absolutely smooth surface. Unlike conventional optics, even the smallest dust particles have little chance to adhere.
These two design features reduce dirt accumulation to a minimum and also facilitate cleaning, both of which result in a long service life and maximum luminosity.
Future-proof thanks to modular design
Like all LED lights at tempLED, the RayBeam V2 has a modular design. This means that all main components can be exchanged and replaced – including the cover lens.
Our customers are convinced
Our customer, a manufacturer for wire plants of all kinds, is already convinced of the efficiency of the cover glass: At the company, the tempLED hall lights are exposed to particularly high levels of dirt and dust every day. For two years now, the cover plates have been performing very well and helping to keep dust and dirt away from the light source.
Convince yourself! Click here for the reference project.
The RayBeam V2 100 / 150 / 200 / 240 is equipped with a cover glass as standard. On request, this can be optionally retrofitted as a particularly shatterproof polycarbonate version.